PARTNERS
No one company can deliver all technologies for the next generation of securely-connected mission critical platforms. Learn more about what Lynx is doing with its partner ecosystem to reduce your technology and business risks, costs, and time to deployment.
BETTER TOGETHER
For us, collaboration has to be beyond PowerPoint! Lynx engages with trusted partners around new technology to prove functional implementation.

Read along to learn more about some of our partners and see what we've accomplished together. Looking for more detailed information? Know a company that you feel Lynx should be engaging with? Interested in a demonstration of mutual capabilities?


CONTACT US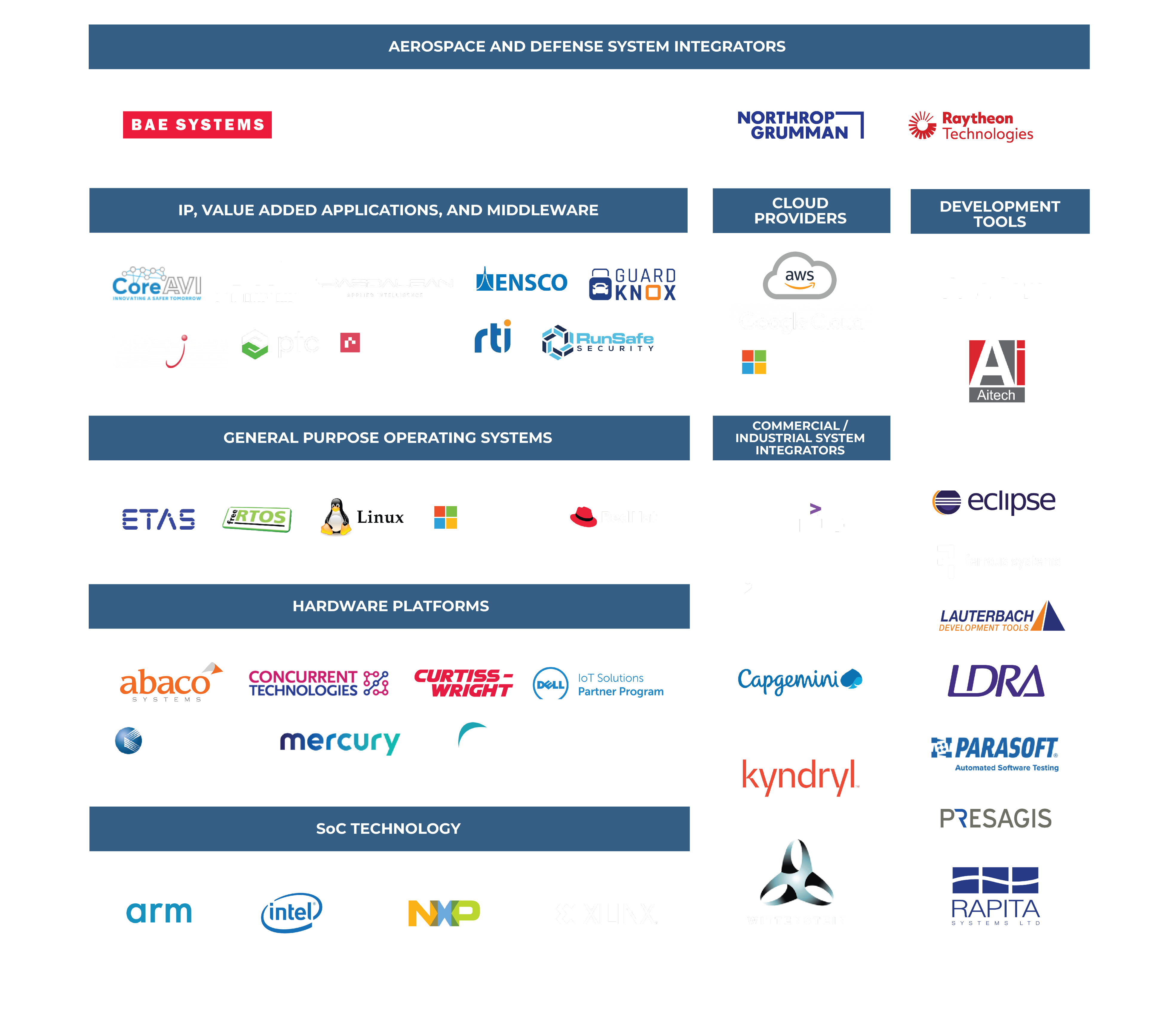 FEATURED PARTNERS

Click each logo to learn more about what we are doing together.
We are excited that both NXP and Arm architectures are now supported within the LYNX MOSA.ic framework. It offers an exceptional technology for managing the complexity associated with multicores, reducing the design and certification time for safety critical systems based on NXP Layerscape and QorIQ SoCs.
Geoff Waters | NXP Semiconductors
Senior Principal Engineer, Chairman for Multicore for Avionics Working Group
LYNX MOSA.ic helps reduce the cost and time investment for customers developing, certifying and deploying innovative platforms.
Senior Director, Automotive
The inclusion of FreeRTOS as a guest of the LynxSecure separation kernel hypervisor will give developers an easy and low cost path to development and integration of complex systems, with a path to a fully safety-certifiable solution.
Lynx has an extensive history and proven success in security, especially within industries similar to ours. We look forward to working together to create new, mission critical solutions.
Michael Kirkpatrick | DESE Research
We are pleased to expand our collaboration with Lynx through its support of our latest Core Gen 11 CPU. As avionics systems become even more complex, the availability of a solution like LYNX MOSA.ic for Avionics is key to controlling the time and costs associated with the development, certification and deployment of mission critical electronics
Tony Franklin | Intel Corporation
GM Federal and Aerospace Group
By using LYNX MOSA.ic on our latest SBC3515-S single-board computer featuring Intel's 11th Gen Core i7 processor, designers can accelerate critical avionics applications and expedite the certification process while saving time and money.
Jay Abendroth | Mercury Systems
Vice President, Mission Business Unit
Our team prides itself on its leadership in safety-critical aerospace technology, and Lynx's support for the 11th generation Intel Core means we can work with the industry's leading-edge solutions.
Chief Sales and Marketing Officer