WHY CUSTOMERS SELECT LYNX
Customers generally select Lynx because they are posed with a serious challenge of how to use multicore server class hardware in a mission critical system.

View our first video of the "Executive Voice Series" featuring Lynx CEO, Tim Reed.
HELPING PROTECT NATIONAL SECURITY
Lynx provides software that accelerates, cost-reduces, and risk-reduces the creation of certifiable safety and/or cybersecurity platforms. Department of Defense (DoD) programs are struggling to maintain pace needed to protect national security. Government Accountability Office's reports on major DoD programs paint a concerning picture of program performance for 2+ decades.
Of nearly 40 major defense programs active in 2022:

Over the last decade, the DoD's major procurement programs overran budget timelines and materials:



Lynx Honored by 2022 Military + Aerospace Electronics Innovators Awards


As a Platinum honoree, LYNX MOSA.ic for Avionics was recognized as a superb innovation characterized by a groundbreaking approach to meeting a need and/or a new level of performance, efficiency, ease of use or other beneficial quality.


The Industry's First Commercial Unikernel with POSIX Compatibility
Utilizing LYNX MOSA.ic's software framework for building and integrating complex multi-core safety- or security-critical systems, Lynx has based its Unikernel product on its commercially proven LynxOS-178 real-time operating system, to enable compatibility between the Unikernel and the standalone LynxOS-178 product. This allows customers to freely transport applications between each environment and is FACE and POSIX API compatible.



LynxElement marks a major leap in the design of security and safety-critical systems by enabling high performance, reduced footprint and containerization of applications.

A controlled migration
toward better
Delivering a safe and secure system for 20+ years when market conditions cause changes to the immensely challenging supplier landscape!
Lynx has a 30 year pedigree in markets where products must remain viable for decades. We embrace your existing software (even if it is based on technology from our competitors) so you don't have to adjust things.

Allow us to assist you with a controlled migration and share helpful information on new capabilities that best suit your needs.





A Simpler Path to Multi-core Certification
Build, certify, and deploy your next mission critical avionics system as a mixed-criticality, heterogeneous design. Leverage hardware virtualization to isolate applications from each other, deliver deterministic real-time performance and reduce your certification cost, while meeting your interoperability requirements such as FACE™, POSIX®, and ARINC 653.



The costliest and most time consuming challenge when building safety critical avionics systems is the arduous process of certification. By reducing the number of complex software abstraction layers between your applications and chosen hardware, this burden is minimized and the resulting system is safer and more secure.


Separation at the Level of Silicon
LynxSafe is the only endpoint security solution that provably separates protected enclaves from user domains — down to the level of silicon — rendering detection and monitoring solutions superfluous. It is immune to the most advanced threats, such as Meltdown, and precludes the need for patching by making it impossible for breaches to execute or for users to bypass security via USB, disabled VPN, email, etc.
Traditional operating systems such as Windows, MacOS or Linux/Android that run on endpoints are vulnerable to cyber-attacks, and security updates and anti-virus software cannot be relied on to protect the endpoint. Traditional IT endpoint security solutions rely on either patching the endpoint OS or anti-virus applications that run on the endpoint OS.

LYNX SOLUTIONS
Program delays, budget overruns, and talent challenges in software development are some of the DoD's top concerns. We have helped several clients in this area including support for the F-35 Joint Strike Fighter. Lynx has a rich history of delivering proven solutions to builders of advanced mission critical software systems for national defense. Learn about what we've done with Lockheed Martin and other high profile defense customers.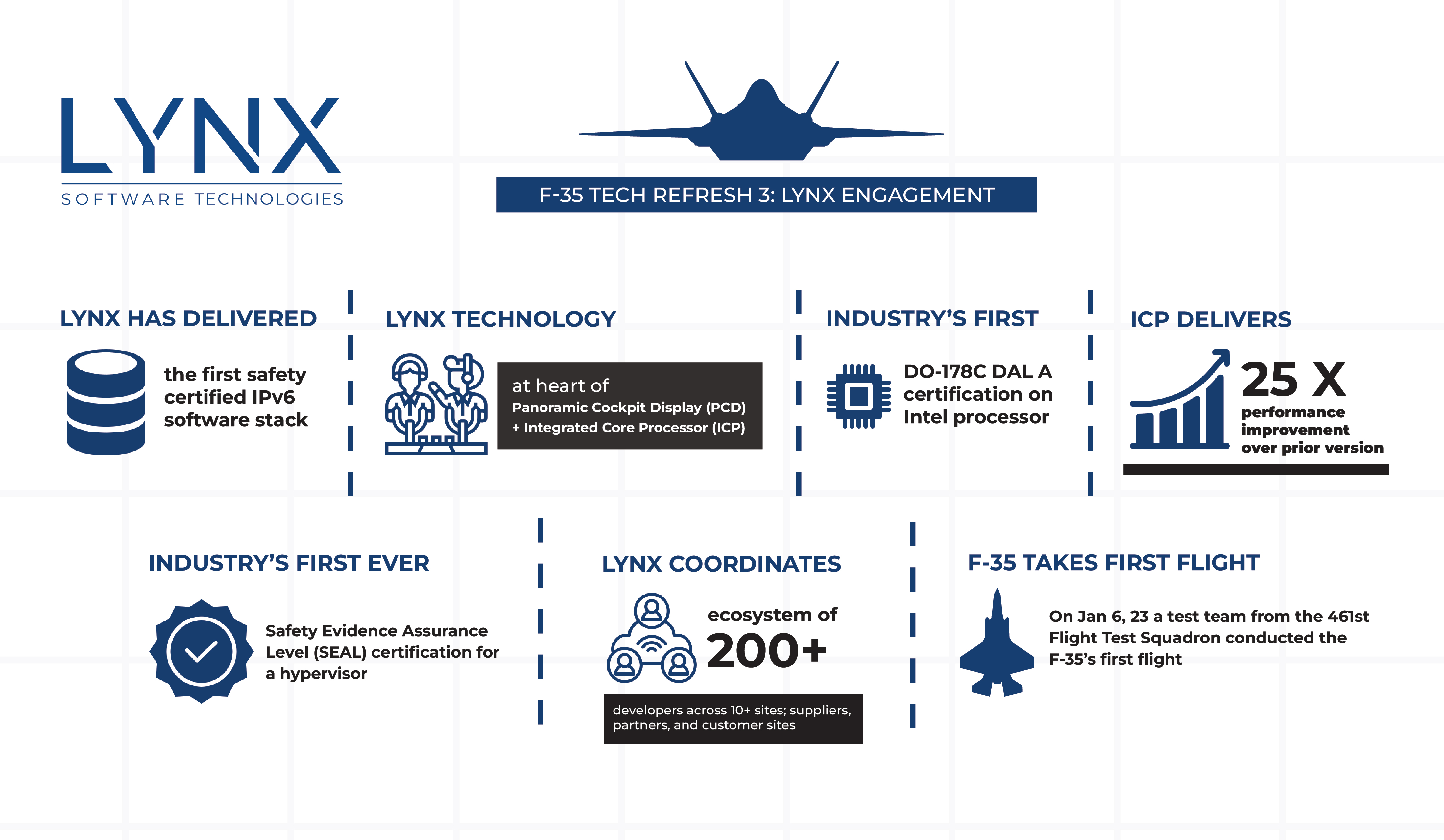 OUR PARTNERS

No one company can deliver all technologies for the next generation of securely-connected mission critical platforms. Click here to learn more about what Lynx is doing with its partner ecosystem to reduce your technology and business risks, costs, and time to deployment.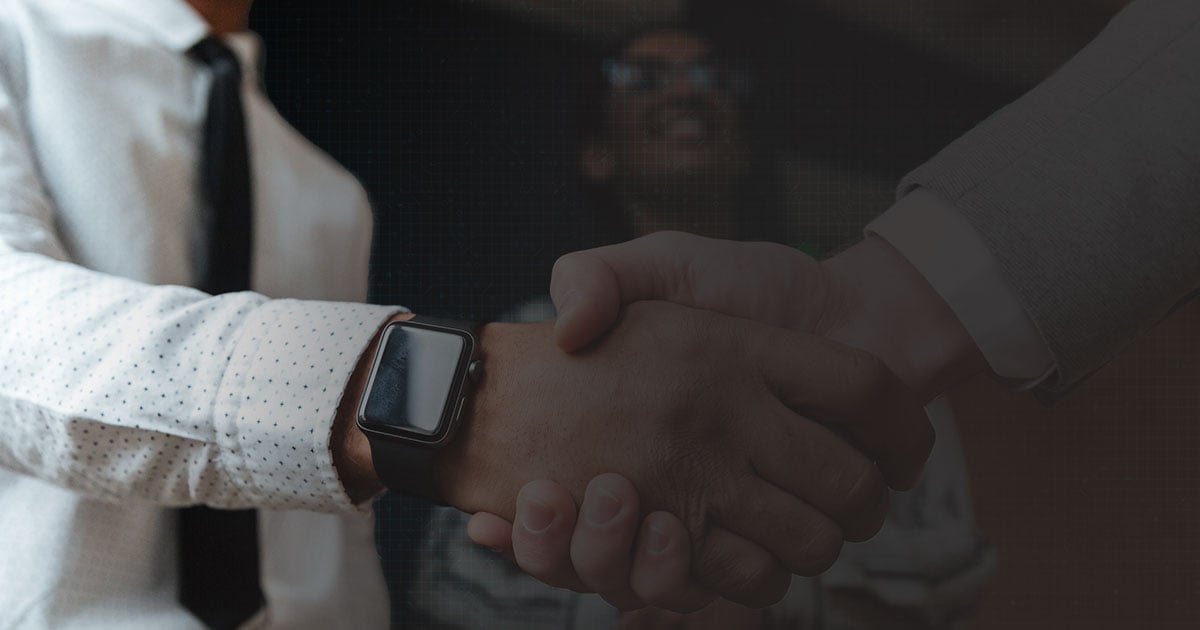 NXP processors have a storied tradition of powering contemporary avionics systems, with a strong software ecosystem that has added to a diverse catalog of innovative aircraft modifications. The addition of LYNX MOSA.ic to this ecosystem brings a new flexibility to the most widely deployed TSN processors in the market, enabling the continued development of deterministic solutions required by modern aircraft.
Jeff Steinheider | NXP Semiconductors
Vice President and General Manager, Industrial Edge
We are excited that both NXP and Arm architectures are now supported within the LYNX MOSA.ic framework. It offers an exceptional technology for managing the complexity associated with multicores, reducing the design and certification time for safety critical systems based on NXP Layerscape and QorIQ SoCs.
Geoff Waters | NXP Semiconductors
Senior Principal Engineer, Chairman for Multicore for Avionics Working Group
LYNX MOSA.ic helps reduce the cost and time investment for customers developing, certifying and deploying innovative platforms.
Senior Director, Automotive
The inclusion of FreeRTOS as a guest of the LynxSecure separation kernel hypervisor will give developers an easy and low cost path to development and integration of complex systems, with a path to a fully safety-certifiable solution.
Lynx has an extensive history and proven success in security, especially within industries similar to ours. We look forward to working together to create new, mission critical solutions..
Michael Kirkpatrick | DESE Research
With many suppliers focused on the security of these systems, Lynx appears to be one of the few worrying about high reliability of platforms over 10+ year product lifecycles.
Chris Rommel | VDC Research
As we continue advancing cutting-edge technology applications for factory automation, we are excited to partner with Lynx to accelerate a new, secure IIoT-based quality system for the market.
Riccardo Sesini | Bosch VHIT
Digital Transformation Manager
We are pleased to expand our collaboration with Lynx through its support of our latest Core Gen 11 CPU. As avionics systems become even more complex, the availability of a solution like LYNX MOSA.ic for Avionics is key to controlling the time and costs associated with the development, certification and deployment of mission critical electronics
Tony Franklin | Intel Corporation
GM Federal and Aerospace Group
By using LYNX MOSA.ic on our latest SBC3515-S single-board computer featuring Intel's 11th Gen Core i7 processor, designers can accelerate critical avionics applications and expedite the certification process while saving time and money.
Jay Abendroth | Mercury Systems
Vice President, Mission Business Unit
Our team prides itself on its leadership in safety-critical aerospace technology, and Lynx's support for the 11th generation Intel Core means we can work with the industry's leading-edge solutions.
Chief Sales and Marketing Officer
I've been tracking unikernels as a technology since 2017 because they show promise to help increase security, performance, and efficiency for a wide variety of applications. However, barriers to entry for developers and integrators were major impeders for adaptation. Unikernel technology has recently experienced significant growth in these areas. It seems inevitable that unikernels will start working their way into operations, and I am excited to see how they make systems more secure, performant, secure, and modular.
Tom Macklin | US Naval Research Laboratory