A number of our recent customer design wins have been where Lynx Software Technologies has ousted competitors from prior versions of those products. We were not in the prior versions of the Joint Strike Fighter prior to the Technical Refresh ("TR3). With another large customer decision cycle making their way through the elimination of a wider set of alternatives and recently casting out a recognized incumbent, my mind turned to thoughts of disruption.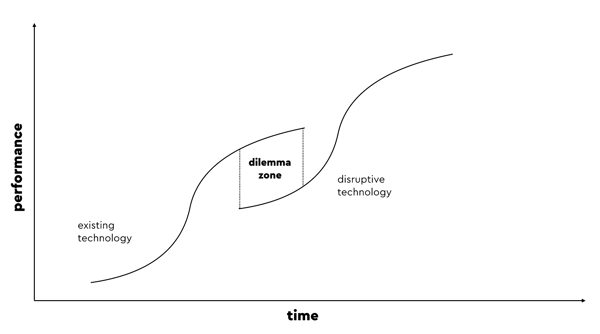 The master (in my biased opinion), was Clay Christensen, the author of The Innovators Dilemma. I had the great honor of meeting him a 4-5 years ago at Harvard Business School, when he assembled a select set of companies from a broad set of industries to discuss disruption. Those being disrupted (there was a very articulate person from Marriott present discussing AirBnB) and those doing the disrupting. Clay had just returned to work after being out after a stroke and so sometimes struggled with his words… yet was still razor sharp in his insight… all the time being one of the most humble leaders I have met (along with this guy). I am grateful to have been able to meet him. The world lost a legend when he passed earlier this year at the far-too-young age of 67.
Despite much of what has been written about Arm (whom I was representing), while we offered technology advantages over substitutes, the fundamental disruption really came down to business model, in a way that caused incumbent suppliers a significant challenge to counter effectively. I feel it is our change of approach to how we address customers' challenges that is causing a lot of our success. I discussed one example a few months ago here.
I live the Bay Area and I am old. I remember visiting the main Google campus which used to be the home for Silicon Graphics. Facebook are on the old campus for what used to be Sun Microsystems. It is a great reminder that change and disruption can come to all of us, sometimes incredibly quickly. Think of people that are a year into a degree in event management. Do they stay the course, or switch to something else, given the havoc that COVID-19 has caused on that industry?
We have been holding a number of robust discussions internally as we recognize that what has served us handsomely from a business model perspective in the aerospace and defense market, will need to be adjusted as we engage in new markets and applications. One size does not fit all...
So as revolutionary as our LynxSecure separation kernel is—which was created in response to global events in the early 2000's—in delivering improved safety and security, the way this is delivered and consumed by clients in new markets will be different. And of course, we have to remain on our guard to recognize substitute technologies that are attempting to disrupt us and react accordingly before it is too late... Stay tuned!